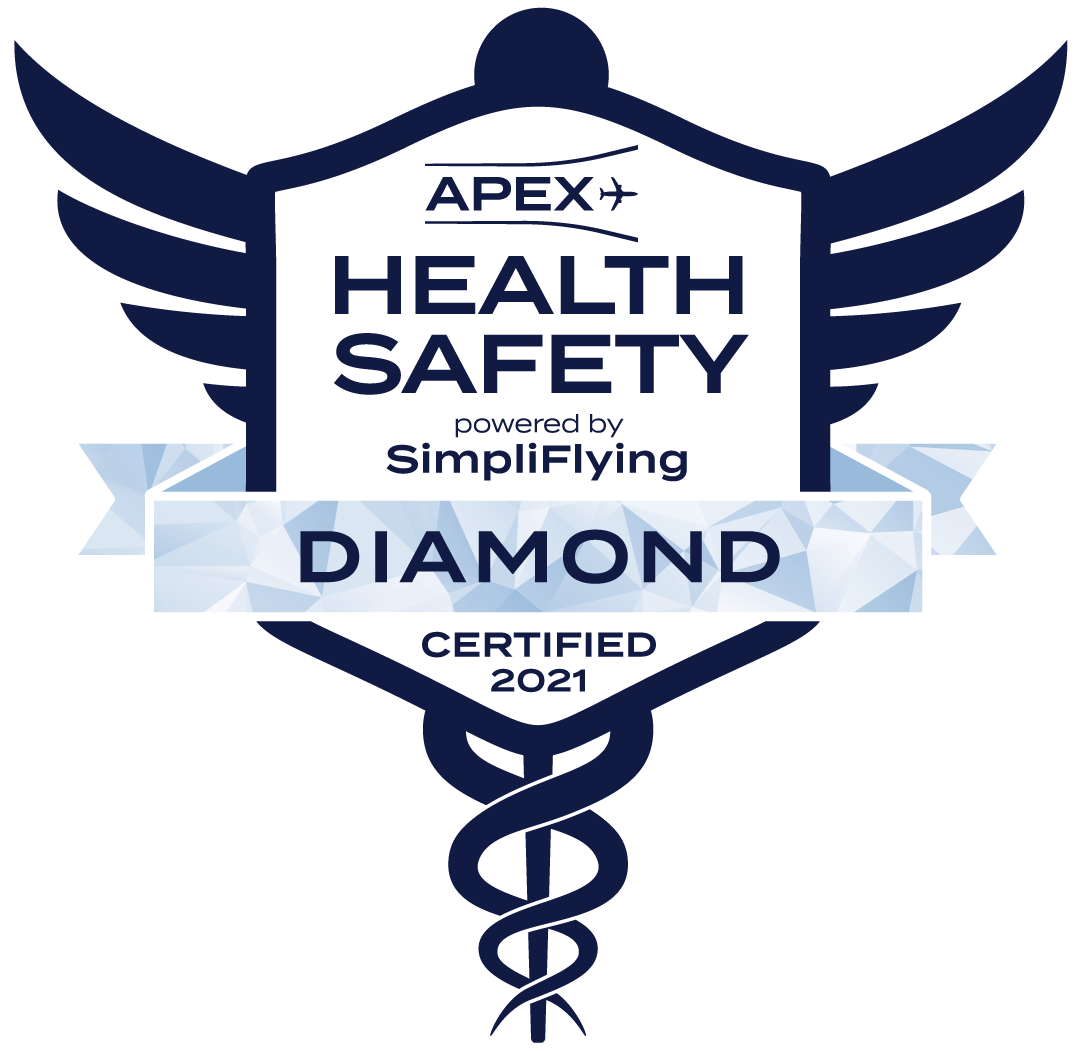 APEX Health Safety Powered by SimpliFlying Creates a New Standard for Passenger Well-Being
FRANKFURT - January 21, 2021 - Star Alliance is delighted that four of its member airlines achieved the highest possible rating among airlines graded in the inaugural APEX Health Safety powered by SimpliFlying audit program for COVID-19 certified airlines.
Air Canada, Singapore Airlines, Turkish Airlines, and United Airlines are among the 12 launch airlines that have fully completed the audit, and among only seven that have been certified as "hospital-grade" DIAMOND level.
APEX Health Safety powered by SimpliFlying provides a scientifically based 58-point validation process designed to encourage airlines to reach beyond governmental requirements to a higher standard. All airlines worldwide may participate in the APEX Health Safety powered by SimpliFlying process. After completion of an initial audit with proof points, a step-by-step verification process occurs with airlines, followed by standard level notification.
"Early on during the COVID-19 crisis, Star Alliance member airlines adopted six unified commitments for customer health and hygiene safety," Star Alliance CEO Jeffrey Goh said. "We are deeply proud that four of our member airlines have gone on to be the first to reach the highest Diamond Health Safety level in the APEX Health Safety powered by SimpliFlying audited program. It is a testament of their customer-centric efforts and that customer hygiene safety is paramount for members of Star Alliance."
"Star Alliance carriers have raised the bar for health safety standards in the industry through their hospital-grade efforts. These steps in ensuring health safety go a long way in bolstering trust among travellers," said Shashank Nigam, CEO of SimpliFlying.
"As more travellers return to the skies, APEX wants customers to know the verified steps being taken by leading airlines worldwide for their well-being," APEX CEO Dr. Joe Leader stated. "Every step that we take with airlines to set even higher standards for health safety for passengers ultimately help keep people safer in-the-air and on-the-ground."
APEX and SimpliFlying have instituted a Health Safety Medical Board of universities, doctors, and hospital experts alongside an Airline Safety Board for directing additional industry actions for advancement of best customer care practices during the pandemic. APEX and SimpliFlying then work with airlines to advance implementation for passengers in quarterly airline audit updates.
###
About Star Alliance
The Star Alliance network was established in 1997 as the first truly global airline alliance, based on a customer value proposition of global reach, worldwide recognition and seamless service. Since inception, it has offered the largest and most comprehensive airline network, with a focus on improving customer experience across the Alliance journey. The member airlines are: Aegean Airlines, Air Canada, Air China, Air India, Air New Zealand, ANA, Asiana Airlines, Austrian, Avianca, Brussels Airlines, Copa Airlines, Croatia Airlines, EGYPTAIR, Ethiopian Airlines, EVA Air, LOT Polish Airlines, Lufthansa, Scandinavian Airlines, Shenzhen Airlines, Singapore Airlines, South African Airways, SWISS, TAP Air Portugal, THAI, Turkish Airlines, and United. Overall, the Star Alliance network currently offers more than 12,000 daily flights to almost 1,300 airports in 197 countries. Further connecting flights are offered by Star Alliance Connecting Partners Juneyao Airlines and THAI Smile Airways.
About the Airline Passenger Experience Association (APEX)
As a global non-profit and one of the world's largest international airline associations, APEX advances passenger experience with the backing of nearly every major airline and valued supplier over the past 42 years. In conjunction with both the International Flight Services Association (IFSA) and Future Travel Experience (FTE), APEX serves the full spectrum of the end-to-end travel experience. APEX reinvests all of its resources to serving its members, strengthening the worldwide airline industry, advancing thought-leadership, fostering business opportunities via events, developing global initiatives, setting key airline standards, and highlighting well-deserved recognition across our industry. For more information, please visit apex.aero.
About SimpliFlying
SimpliFlying is a global leader in aviation strategy, having worked with over 100 airlines and airports worldwide since 2008. Since the beginning of COVID-19, SimpliFlying has focused on rebuilding trust in travel through biosafety measures, testing, and "trace & track". SimpliFlying led the aviation industry's response to the pandemic through its Rise of Sanitised Travel framework. Headquartered in Singapore, SimpliFlying has staff in Canada, Russia, Spain and the United Kingdom. To learn more about SimpliFlying visit https://simpliflying.com/
For further information, please contact:
Star Alliance Press Office
Tel: +49 69 96375 183
Fax: +49 69 96375 683
Email: mediarelations@staralliance.com
Visit our
homepage
or connect to us on social media: