Ethiopian Airlines, the fastest growing and the largest Cargo operator in Africa, is pleased to announce that it has won the Rising Star Carrier of the Year Award, for the second year in a row, at the 5th Payload Asia Awards 2016 held in Hong Kong on 29th September 2016.
Payload Asia 2016 honors the very best in the Air Cargo Industry; confronting and overcoming the manifold challenges in the air cargo sector by creating innovative products and services and delivering real value to customers. Ethiopian has pulled off a repeat performance by winning the Industry Choice Awards, where 90 nominees competed with over 31, 500 online votes cast in 20 award categories.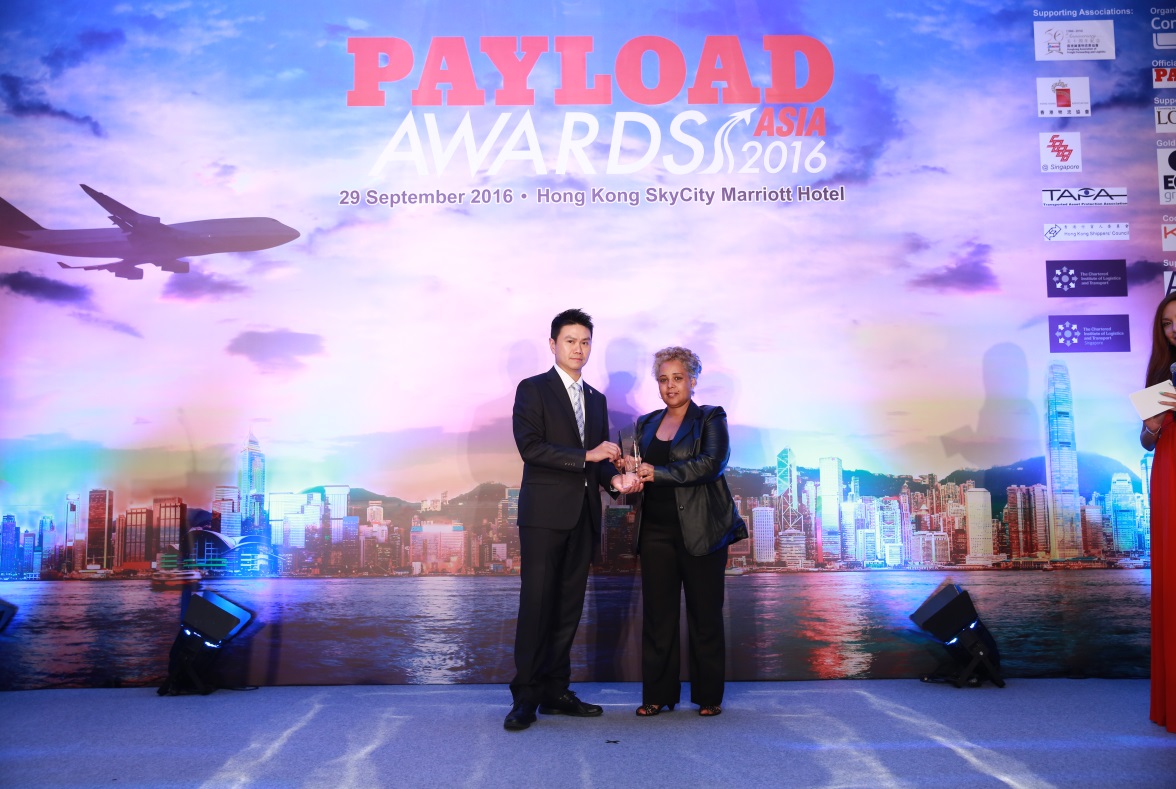 Ethiopian Group CEO Mr. Tewolde GebreMariam, remarked, "We are proud that Payload Asia has once again recognized our Cargo Services. Ethiopian Cargo is one of the seven strategic business units of the Ethiopian Group, established to progress as an independent profit center as per our fifteen years growth map, Vision 2025. To persue our position of being the largest Cargo service provider in Africa, we have been investing millions of dollars on our Cargo Services; deploying the best freighter fleet in the world, the B777-200 LR freighters; expanding our cargo destinations across the globe; building one of the largest cargo terminals in the world with 1.2 million annual capacity; and automating our entire cargo business process with one of the best Cargo IT systems (SITA Champ Cargo Spot) with the aim of providing one of the most efficient air cargo services within, to and from Africa."
Ethiopian Cargo currently operates to 35 destinations in Africa, the Middle East, Asia and Europe using six B777 and two B757 freighters. The Airline also carries freight in the belly of wide body passenger aircraft, B777/B787, to 94 destinations across the Globe. Some of the major cargo destinations are: Belgium (Brussels & Liege), Hong Kong, Shanghai, Bombay, New Delhi, Dubai, South Africa, Lome and Lagos.
About Ethiopian
Ethiopian Airlines (Ethiopian) is the fastest growing Airline in Africa. In its seven decades of operation, Ethiopian has become one of the continent's leading carriers, unrivalled in efficiency and operational success.
Ethiopian commands the lion's share of the pan-African passenger and cargo network operating the youngest and most modern fleet to 93 international destinations across five continents. Ethiopian fleet includes ultra-modern and environmentally friendly aircraft such as Airbus A350, Boeing 787, Boeing 777-300ER, Boeing 777-200LR, Boeing 777-200 Freighter, Bombardier Q-400 double cabin with an average fleet age of five years. In fact, Ethiopian is the first airline in Africa to own and operate these aircraft.
Ethiopian is currently implementing a 15-year strategic plan called Vision 2025 that will see it become the leading aviation group in Africa with seven business centers: Ethiopian Domestic and Regional Airline; Ethiopian International Passenger Airline; Ethiopian Cargo; Ethiopian MRO; Ethiopian Aviation Academy; Ethiopian In-flight Catering Services; and Ethiopian Ground Service. Ethiopian is a multi-award winning airline registering an average growth of 25% in the past seven years.
For more information about this press release, please contact:
Mrs. Hanna Atnafu
Manager Corporate Communications
Ethiopian Airlines
Tel: (251-1) 517-89-07/656/165/913/529
CorporateCommunication@ethiopianairlines.com
www.facebook.com/ethiopianairlines