Ethiopian Airlines, the fastest growing and most profitable African airline, is pleased to announce that it has won two coveted awards in the first East Africa Careers in Africa Choice Awards, at a top tier event hosted by the Global Career Company, held on September 8th 2016 at the Luxurious 5 star Radisson Blue, Nairobi.
Ethiopian was nominated in three categories, out of the ten presented, and was crowned in two: Reward Employer of Choice, as the leader in terms of compensation and benefits offered to employees and Local Attractiveness Employer of Choice, as the leading company in hiring majority of locally based talent. In addition, Ethiopian Airlines took the runner-up award in the East African Employer of Choice.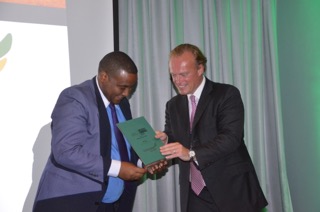 Mr. Wasihun Asres, A/VP Corporate HRM receiving the Awards
The awards methodology takes company ratings provided by prospective employers across 29 attraction drivers, asking talent to grade organizations against all drivers.
A/VP Corporate HRM Ethiopian Airlines, Mr. Wasihun Asres, remarked while receiving the award, "I am honored to receive these awards on behalf of the Ethiopian family. This regional award is a testament of Ethiopian commitment and great investment in its Human Capital, one of the four pillars in our strategic road map,Vision 2025. As clearly stipulated in our value statements also, Ethiopian is an Equal Opportunity Employer committed to diversity and fairness. Moreover, such recognitions that are based on real votes and inputs from a wide variety of data points will definitely boost and encourage us all to further work on developing and investing in our Human Capital. As a global African airline that's growing fast, we are proud to be able to hire the majority of our staff from locally based talent."
Ethiopian is a multi-award winning airline, including 'Best Airline Staff in Africa' by SkyTrax World Airline Award, 'African Airline of the Year' Award for 2016, 'Best Airline to Africa'- for a second year in a row, 'Best Airline in Africa' by one of the most prominent travel magazines in the United States - Premier Traveler, the APEX 'Passenger Choice Award', the most extensive survey of passengers in the industry, CAPA 'Airline of the Year Award', AFRAA 'Airline of the year award' - for the fourth year in a row, are few to mention.
About Ethiopian
Ethiopian Airlines (Ethiopian) is the fastest growing Airline in Africa. In its seven decades of operation, Ethiopian has become one of the continent's leading carriers, unrivalled in efficiency and operational success.
Ethiopian commands the lion's share of the pan-African passenger and cargo network operating the youngest and most modern fleet to 93 international destinations across five continents. Ethiopian fleet includes ultra-modern and environmentally friendly aircraft such as Airbus A350, Boeing 787, Boeing 777-300ER, Boeing 777-200LR, Boeing 777-200 Freighter, Bombardier Q-400 double cabin with an average fleet age of five years. In fact, Ethiopian is the first airline in Africa to own and operate these aircraft.
Ethiopian is currently implementing a 15-year strategic plan called Vision 2025 that will see it become the leading aviation group in Africa with seven business centers: Ethiopian Domestic and Regional Airline; Ethiopian International Passenger Airline; Ethiopian Cargo; Ethiopian MRO; Ethiopian Aviation Academy; Ethiopian In-flight Catering Services; and Ethiopian Ground Service. Ethiopian is a multi-award winning airline registering an average growth of 25% in the past seven years.
For more information about this press release, please contact:
Mrs. Hanna Atnafu
Manager Corporate Communications
Ethiopian Airlines
Tel: (251-1) 517-89-07/656/165/913/529
CorporateCommunication@ethiopianairlines.com
www.ethiopianairlines.com
www.facebook.com/ethiopianairlines
www.twitter.com/flyethiopian