Ethiopian is pleased to announce that it has been named the 'Airline of the Year 2009' at the African Business Awards organized by the London-based African Business and the Commonwealth Business Council (CBC). The award was presented to Ethiopian Airlines at the African Business Awards ceremony held at the Grosvenor House Hotel, Ballroom, in London on July 06, 2009. According to the 2009 judging panels of the African Business Awards, the winners of the Airline of the Year 2009 were chosen from a pool of nominees based on "solid financial results coupled with distinctive customer service, punctuality and innovative products and services for consumers, especially in opening new routes."
After receiving the award, Mr. Yeneneh Tekelyes, Director for Advertising and Promotions of Ethiopian Airlines said, "While we rejoice for winning the award, the recognition of our overall excellence among other African Airlines motivates and encourages us to provide and deliver even more products and better services." The award organizer, IC Publications has over 40 years' experience in publishing magazines, newsletters, country supplements, industry reports and market intelligence on Africa and the Middle East.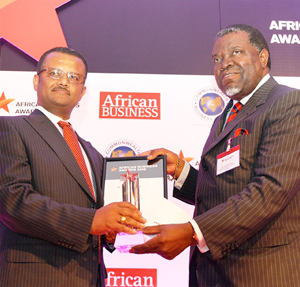 Mr. Yeneneh (left) receiving the award from Hon Hage Geingob,
Minister of Trade and Industry of Namibia
Present at this festive and memorable African night were prominent government leaders including H.E Mr. Paul Kagame, President of Rwanda and several other ministers from different African countries.
About Ethiopian
Ethiopian Airlines, one of the largest and fastest growing airlines in Africa, made its maiden flight to Cairo in 1946. With the recent service additions to Riyadh and Malabo, Ethiopian provides dependable services to 34 cities in Africa and to a total of 55 destinations world wide.
In August 2008, Ethiopian won the 2008 Corporate Achievement Award of Aviation & Allied Business for setting the pace towards the development and growth of the African aviation industry.
Ethiopian is also the first African carrier to win the 2008 Brussels Airport Company Award in recognition of its distinguished long haul operations witnessed through the introduction of new routes, new products, and close cooperation with Brussels Airport in marketing activities.
Ethiopian was the winner of the 2008 Best Airline in Africa Award at the African Travel Award in Lagos, Nigeria, for its excellent network and convenient connections in Africa.
PR & Publications
---
For more information about this press release, please contact:

Manager PR & Publications
Ethiopian Airlines
Tel: (251-1) 517-89-07 (251-1) 517-81-65
Fax: (251-1) 661-14-74
E-mail: publicrelations@ethiopianairlines.com