Addis Ababa 29 April 2021
Ethiopian Airlines Group, Africa's largest airline, has been honored with gold award for the volume of cargo transported to and from Guangdong Airport in 2020. Logistics of Guangdong Airport Authority Co. Ltd. has awarded Ethiopian as the Gold Award winner of International Airlines Cargo Volume during the 2021 Logistics of Guangdong Airport Authority Client Seminar, held in Guangzhou.
Ethiopian Airlines Group CEO, Mr. Tewolde GebreMariam said ''We are grateful to Logistics of Guangdong Airport Authority Co. Ltd. for honoring us with this special award in recognition of our efforts. China is one of the top cargo origins and Guangzhou Baiyun International Airport is among the main international aviation hubs in the Greater Bay Area. We have worked very hard to provide efficient cargo service between China and the rest of the world during the Covid-19 pandemic. The award is a recognition of this effort and it will inspire us to enhance our services to the greater bay area to meet the growing customer demand for airfreight.''
Last year, Ethiopian demonstrated impressive performance at Guangzhou Baiyun International Airport by operating 1622 flights out of which 966 were with freighter, 572 were with Preighter (passenger aircraft converted to cargo), and 84 flights were with belly hold on passenger aircraft.
In 2020, Ethiopian became the leading airline in terms of cargo transported in and out of the port by carrying a total cargo weight of 54.4 Million Kilograms. Ethiopian will increase its frequency to Guangzhou Baiyun International Airport to 14 freighters and 21 preighters per week soon.
Since the outbreak of COVID - 19 pandemic, Ethiopian strategically shifted its business focus to cargo transportation and aircraft maintenance businesses. Through its agility and active implementation of "passenger-to-cargo" conversion, Ethiopian efficiently transported vaccines, personal protective equipment and other medical supplies across the globe. So far, Ethiopian has transported more than 20 million doses of vaccine to more than 20 countries.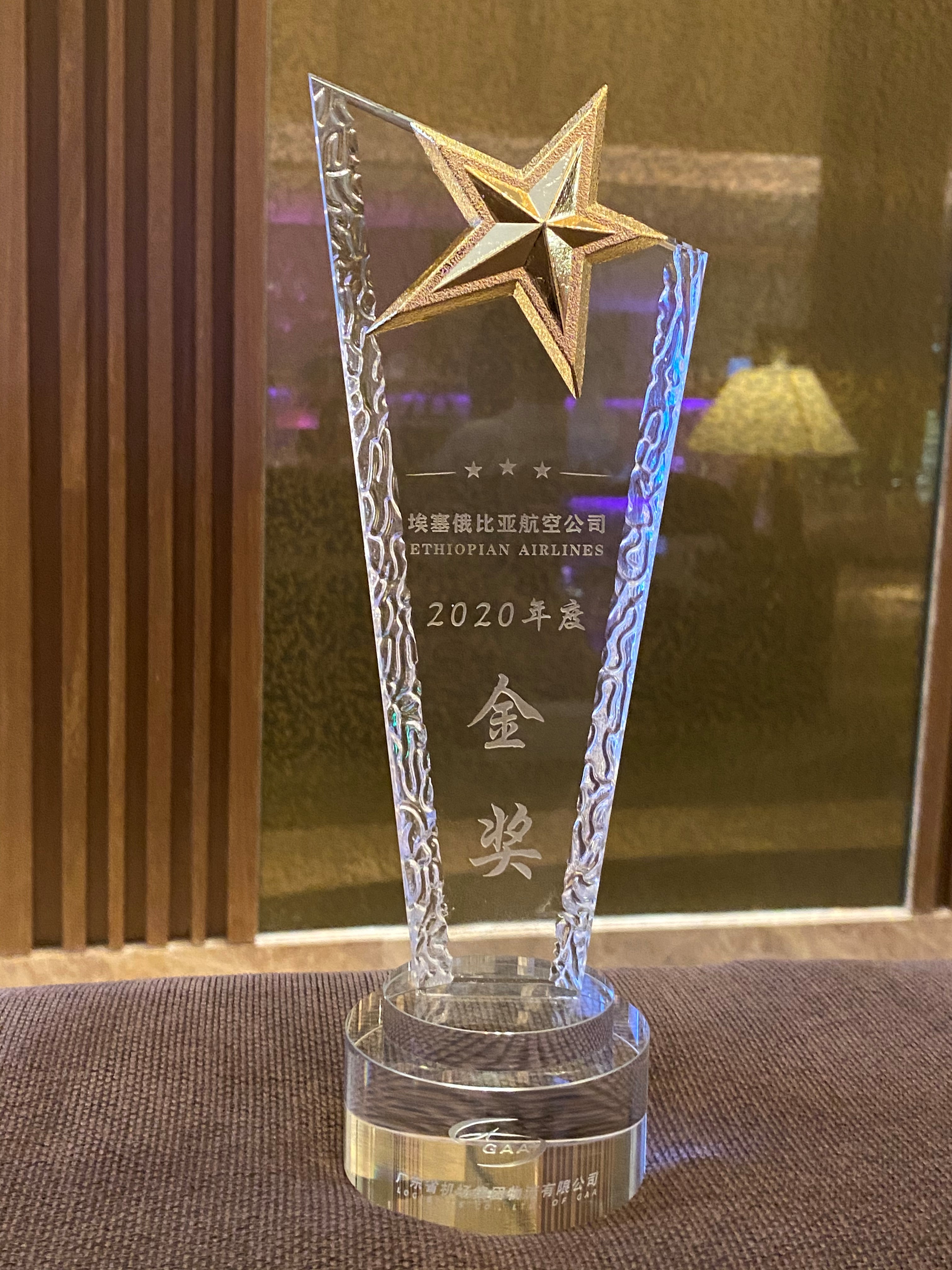 Note to Editor
About Ethiopian
Ethiopian Airlines (Ethiopian) is the fastest growing Airline in Africa. In its Seventy-Five years of operation, Ethiopian has become one of the continent's leading carriers, unrivalled in efficiency and operational success. Ethiopian commands the lion's share of the Pan-African passenger and cargo network operating the youngest and most modern fleet to 127 international passenger and cargo destinations across five continents. Ethiopian fleet includes ultra-modern and environmentally friendly aircraft such as Airbus A350, Boeing 787-8, Boeing 787-9, Boeing 777-300ER, Boeing 777-200LR, Boeing 777-200 Freighter, Bombardier Q-400 double cabin with an average fleet age of five years. In fact, Ethiopian is the first airline in Africa to own and operate these aircraft. Ethiopian is currently implementing a 15-year strategic plan called Vision 2025 that will see it become the leading aviation group in Africa with Seven business units: Ethiopian International Services; Ethiopian Cargo & Logistics Services; Ethiopian MRO Services; Ethiopian Aviation Academy; Ethiopian ADD Hub Ground Services, Ethiopian Airports Services and Ethiopian Express Services (Domestic). Ethiopian is a multi-award-winning airline registering an average growth of 25% in the past seven years.
Email: CorporateCommunication@ethiopianairlines.com
Tel: (251-11)517-8913/165/529/
Web: https://www.ethiopianairlines.com/et
Social Media
Facebook: https://www.facebook.com/EthiopianAirlines
Twitter: https://twitter.com/flyethiopian
Instagram: https://www.instagram.com/fly.ethiopian/
LinkedIn: https://www.linkedin.com/company/48846/admin/
Telegram: https://t.me/ethiopian_airlines
YouTube
:
https://www.youtube.com/c/Ethiopianairlinescom