On July 02, 2011, Ethiopian's maiden flight to Milan, Italy took off at 2305 LT from Bole International Airport. Milan is the second destination in Italy now being served by Ethiopian, where it has been flying to its capital Rome since 1964.
By adding Milan to its network, Ethiopian reinforces the ties between the two countries enhancing trade and investment. The new services will provide our customers easy and convenient access to Italy's city of fashion, industry and art, five times a week on Mondays, Tuesdays, Thursdays, Saturdays and Sundays.
The first flight event was held at the Addis Ababa Bole International Airport, VIP Lounge -3 in the presence of his Excellency Mr. Renzo Rosso, the Italian Ambassador to Ethiopia, Mr. Tewolde Gebremariam CEO of Ethiopian Airlines, invited guests and officials of the airline.
On the launching event, the CEO Mr. Tewolde said, "Our new non-stop service between Addis Ababa and Milan will not only reduce travel time between Ethiopia and Northern Italy but will also create vital connectivity between Africa and Southern Germany, Switzerland, and other Southern European Countries."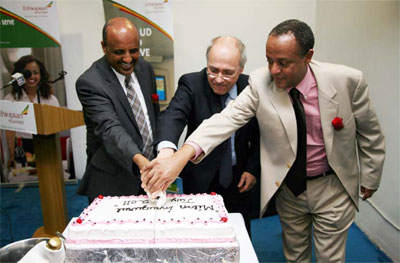 From Left to Right: The CEO Mr Tewolde G. Mariam, H.E Ambassador Renzo and Mr. Gobena Mikael, SVP Global Sales & A/CCO cutting cake marking the first flight to Milan on July 02, 2011
His Excellency Ambassador Renzo Rosso on his part stated that the new services to Milan play a major role to enhance the two countries' political and economic ties as Milan is Italy's major business and fashion capital.
The commencement of the new service to Milan marks the national carrier's 63rd destination globally, and its seventh in Europe further enhancing the Airline's commitment to expand its services.
About Ethiopian
Ethiopian Airlines, one of the most successful and leading airlines in Africa, made its maiden flight to Cairo in 1946. With the addition of new flight services to Milan, Ethiopian provides dependable services to 63 international destinations spanning four continents.
Recently, Ethiopian received the 2011 "AIRLINE RELIABILITY PERFORMANCE AWARD" from Bombardier aircraft manufacturer based in Canada. Besides, Ethiopian scooped the 2010 "Silver Boeing Performance Excellence Award" for its outstanding performance at the Wire Kit Harness Manufacturing Plant. In 2009, Ethiopian received the "NEPAD Transport Infrastructure Excellence Award" and "Airline of the Year" award from the African Airlines Association (AFRAA). Ethiopian is also the first African carrier to win the 2008 Brussels Airport Company Award in recognition of its distinguished long haul operations witnessed through the introduction of new routes, new products, and close cooperation with Brussels Airport in marketing activities.