Ethiopian Airlines and SAP (Systems, Applications and Products) have signed a contract for the acquisition and implementation of corporate-wide back office Information System and Master Systems Integration (MSI) services on October 09, 2009 at Ethiopian head quarters.
The project, valued at $8.5 million, is part of the Ethiopian business transformation program designed to enhance customer satisfaction and increase employee productivity through end-to-end IT enablement and best practice business process adoption. Mr. Girma Wake, CEO of Ethiopian Airlines, and Mr. Pfungwa Serima, Managing Director of SAP Africa, signed the contract at Ethiopian headquarters in Addis Ababa.
At the contract signing ceremony Mr. Girma said, "This contract is an important milestone for Ethiopian and it is vital to support the Airline's growth strategy through integrated and real-time information delivery. This project particularly focuses on the implementation of integrated corporate-wide back office (Enterprise Resource Planning – ERP) applications deployment, which will form and define the core technology backbone for the Airline in the foreseeable future."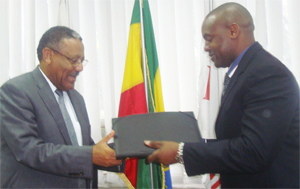 CEO of Ethiopian. Mr. Girma Wake with Managing Director of SAP Africa, Mr. Pfungwa Serima
On his part, Mr. Pfungwa Serima said, "The contract is a landmark for SAP and we are proud to partnership with Ethiopian during this time of the Airline's information empowerment needs. As the success of this project is key to Ethiopian, it is far more important to SAP in building airline partnership in Africa. We would like to assure our full commitment towards the successful implementation of the project."
This project, which takes effect immediately, includes financial systems, human capital management system, supply chain management system and Corporate Portal, Data warehouse/Business Intelligence systems including Middleware system integration services. These systems when fully implemented enable faster, convenient and efficient services to Ethiopian customers.
About Ethiopian
Ethiopian Airlines, one of the largest and fastest growing airlines in Africa, made its maiden flight to Cairo in 1946.
In July 2009, Ethiopian won 'Airline of the Year 2009' award at African Business Award organized by the London based African Business Magazine and Common Wealth Business Council.
In August 2008, Ethiopian won the 2008 Corporate Achievement Award of Aviation & Allied Business for setting the pace towards the development and growth of the African aviation industry.
Ethiopian is also the first African carrier to win the 2008 Brussels Airport Company Award in recognition of its distinguished long haul operations witnessed through the introduction of new routes, new products, and close cooperation with Brussels Airport in marketing activities.
Ethiopian was the winner of the '2008 Best Airline in Africa Award' at the African Travel Award in Lagos, Nigeria, for its excellent network and convenient connections in Africa.
For more information about this press release, please contact:

Manager PR & Publications
Ethiopian Airlines
Tel: (251-1) 517-89-07 (251-1) 517-81-65
Fax: (251-1) 661-14-74
E-mail: publicrelations@ethiopianairlines.com