The Ethiopian Employers' Federation (EEF) awarded an Honorable Certificate & Trophy to Ethiopian Airlines in recognition of its success in creating conductive employment relationship between its management and staff as well as its support for the Federation and the country's development goals.
Mr. Mesfin Tasew, Chief Operations Officer of the Ethiopian Group, received the Honorable Certificate and Trophy from Mr. Tadele Yimer, President of Ethiopian Employers'Federation, at a reception ceremony held Thursday, October 8, 2015, in Ghion Hotel.
The award also acknowledges Ethiopian's efforts and valuable contribution to the fulfillment of the country's Growth and Transformation Plan; support for the domestic transportation sector; generation of foreign currency through its profitable services as well as the conducive environment created for labor-management relationship and the financial and technical support given for the efforts of the Federation to safeguard the rights and benefits of employers.
While receiving the award Mr. Mesfin Tasew remarked, "We are pleased to receive this honor of certification from Ethiopian Employee's Federation, which is a testimony of the transcendent corporate governance at Ethiopian Airlines. We believe that the success of our flag carrier is always the result of the effective blend of Employees and the management of Ethiopian. Of course this recognition would serve as a spring board to step into the future with a better synergy and commitment. We would like to thank the Federation for the recognition."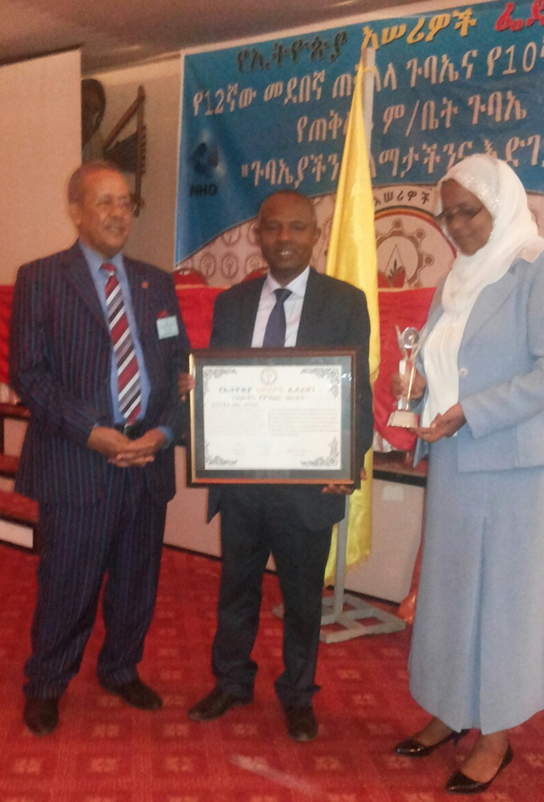 Mr. Tadele Yimer, President of Ethiopian Employers' Federation, Mr. Mesfin Tasew Chief Operations Officer
of Ethiopian Airlines and Mrs. Aziza Mohammed, Vice President Corporate Human Resources

Ministry of Labor & Social Affairs, Private Organizations Employees Social Security Agency, Commercial Bank of Ethiopia and MIDROC Ethiopia Technology Group are also among the awardees.
About Ethiopian
Ethiopian Airlines (Ethiopian) is the fastest growing Airline in Africa. In its close to seven decades of operations, Ethiopian has become one of the continent's leading carriers, unrivalled in efficiency and operational success.
Ethiopian commands the lion share of the pan-African passenger and cargo network operating the youngest and most modern fleet to more than 91 international destinations across five continents. Ethiopian fleet includes ultra-modern and environmentally friendly aircraft such as the Boeing 787, Boeing 777-300ER, Boeing 777-200LR, Boeing 777-200 Freighter, Bombardier Q-400 double cabin with an average fleet age of five years. In fact, Ethiopian is the first airline in Africa to own and operate these aircraft.
Ethiopian is currently implementing a 15-year strategic plan called Vision 2025 that will see it become the leading aviation group in Africa with seven business centers: Ethiopian Domestic and Regional Airline; Ethiopian International Passenger Airline; Ethiopian Cargo; Ethiopian MRO; Ethiopian Aviation Academy; Ethiopian In-flight Catering Services; and Ethiopian Ground Service. Ethiopian is a multi-award winning airline registering an average growth of 25% in the past seven years.
For more information about this press release, please contact:
Manager PR & Publications
Ethiopian Airlines
Tel: (251-1) 517-84-07/656/165/913/529
publicrelations@ethiopianairlines.com
www.facebook.com/ethiopianairlines