Ethiopian Airlines was proud and honored to have brought back home the Ethiopian athletes who made history in the 2008 Beijing Olympics. The Ethiopian Athletics team arrived at Addis Ababa on August 27 2008 on board ET-605. H.E Prime Minister Meles Zenawi, high government officials, family members, hundreds of sport enthusiasts and Ethiopian Airlines officials welcomed the athletic team at the Addis Ababa Bole International Airport.
The captain in command of the flight ET-605 welcomed the returning heroes from his cockpit by saying "We congratulate you all for a mission well accomplished. We are proud of you and privileged to have you fly with us today." To commemorate the victory the captain invited the Olympic heroes; Athlete Kenenisa Bekele and Athlete Tirunish Dibaba to cut a cake on the flight.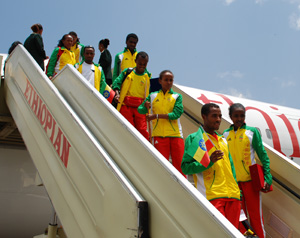 Welcoming of the Ethiopian Athletics team at Addis Ababa Bole International Airport
Kenenisa Bekele not only became the first athlete to win the Men's 5000m and 10,000m in the same Olympic Games since Miruts Yifter performed the feat in 1980, but also broke the Olympic records by registering the fastest Olympic time for both 5000m and 10,000m. Tirunesh Dibaba becomes the first woman with the double gold medals in both the 5000m and 10000m at the same Olympics. Tirunesh also broke the record in the 10,000 women's track race.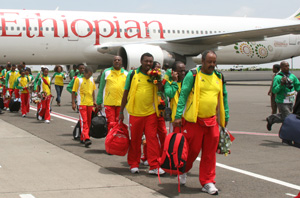 Welcoming of the Ethiopian Athletics team at Addis Ababa Bole International Airport
Ethiopian Airlines takes this opportunity to congratulate all athletes on their victory and expresses its best wishes in their future endeavor.
About Ethiopian
Ethiopian Airlines, www.ethiopianairlines.com, one of the largest and fastest growing airlines in Africa made its maiden flight to Cairo in 1946. The airline currently serves 50 destinations around the globe, 30 of which are in Africa. The addition of service to Kuwait in July 2008 will bring the total number of Ethiopian's international destinations to 51.
In 2006 and 2007 Ethiopian was the proud recipient of awards for the African Airline of the Year 2006, Africa Business of the Year 2007 and Ghana Business and Financial Award 2007 from the African Aviation Journal, the African Times/USA and the Government of Ghana respectively for its outstanding performance in the commercial air transport industry.
Ethiopian will be the first carrier to operate the 787 Dreamliner in Africa, the Middle East and Europe.