The Ethiopian Aviation Academy has honored the latest batch of graduates from its Pilot training program on August 16, 2011.
During the graduation ceremony held at the Ethiopian headquarters, Mr. Tewolde Gebremariam CEO of Ethiopian Airlines gave out diplomas and pilot wings to the graduates who have successfully completed the two years pilot training program. Achievement awards are also presented for top performing pilots.
The pilots have covered the commercial pilot training course which was given as classroom instructions for 695:00 hours and practical flight training both or single and multi - engine aircraft for 200:00 hours. The graduates have also attended simulator training for 60:00 hours and passed level 4 English proficiency assessments given by International Civil Aviation Organization (ICAO).
The School has so far graduated 947 pilots since its inception in 1964 out of which 621 are Ethiopians and 325 are foreign nations from 37 different countries mainly from Africa and Middle East.
The academy has recently bought ten DA40NGS pilots training aircraft from Austrian Diamond Aircraft Manufacturing Company to enhance its pilot training and signed an MPL (Multi – Pilot Licensing) implementation consultancy agreement with FlightPath International Company based in Canada.
Ethiopian Airlines Pilot Training School has high tech equipment including the B737-700/800 as well as 767/757 simulators that provide training for its own pilots as well as pilots from different countries. The syllabi of the school are approved and accredited by Ethiopian Civil Aviation Authority (ECAA), the African Civil Aviation Commission (AFCAC), the African Airlines Association (AFRAA) and the International Civil Aviation Organization (ICAO).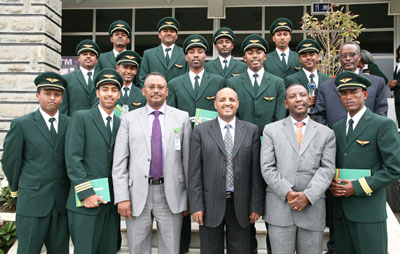 From Left to Right: VP Flight Operations Captain Desta Zeru, The CEO Mr. Tewolde G. Mariam,
and VP Ethiopian Aviation Academy Mr. Samuel Assefa with the graduates
Currently, 150 pilots are being trained in the school, out of which 144 are Ethiopians and 6 foreign nationals.
About Ethiopian
Ethiopian Airlines, one of the most successful and leading airlines in Africa, made its maiden flight to Cairo in 1946. With the addition of new flight services to Milan, Ethiopian will provide dependable services to 63 international destinations spanning four continents.
Recently, Ethiopian received the 2011 "Airline Reliability Performace Award" from Bombardier aircraft manufacturer based in Canada. Besides, Ethiopian won the 2010 "Silver Boeing Performance Excellence Award" for its outstanding performance at the Wire Kit Harness Manufacturing Plant. In 2009, Ethiopian scooped the "NEPAD Transport Infrastructure Excellence Award" and "Airline of the Year" award from the African Airlines Association (AFRAA). Ethiopian is also the first African carrier to win the 2008 Brussels Airport Company Award in recognition of its distinguished long haul operations witnessed through the introduction of new routes, new products, and close cooperation with Brussels Airport in marketing activities.