Ethiopian Airlines Aviation Academy graduated 87 Aviation Technicians on Thursday, March 24, 2011 in the fields of Aircraft Maintenance, Avionics, Airframe and Powerplant maintenance. The graduates are nationals of Mozambique, Chad, Namibia and Ethiopia. The Chief Executive Officer of Ethiopian Airlines, Ato Tewolde G. Mariam handed over diplomas to the graduates and prizes to the outstanding graduates at the ceremony held in honor of the graduates.
The graduates have acquired sufficient theoretical and practical skills that qualify them in their career as Aviation Technicians. They are equipped with the skills that enable them to maintain different systems of aircraft operated by their national carriers and other airlines.
Today's graduates will raise the total number of trained Aviation Technicians from the School to 2828 since its inception in February 1969. Out of which 1997 are Ethiopians and the rest 831are nationals of 49 different countries of the world mainly from Africa and the Middle East.
The syllabi of the school are approved and accredited by Ethiopian Civil Aviation Authority (ECAA), The African Civil Aviation Commission (AFCAC), The African Airlines Association (AFRAA) and The International Civil Aviation Organization (ICAO).
Ethiopian Aviation Academy since its inception in 1960's ensures a steady supply of qualified pilots, cabin crew, maintenance technicians, as well as marketing and finance professionals. Hundreds of overseas maintenance technicians and pilots from over 40 countries around the world have graduated from the Aviation Academy. The airline's B757/B767 and B737-800 NG Flight Simulators are the state-of-the-art equipment which help to prepare Ethiopia's and other carriers' pilots with the higher level of proficiency in their field. Today's graduation also reaffirms the airline's commitment to serve African aviation training needs.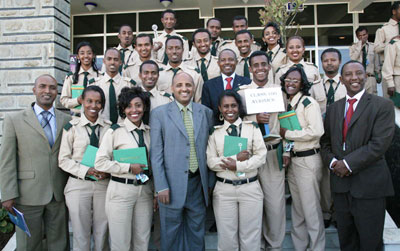 CEO of Ethiopian, Mr. Tewolde Gebremariam, and course facilitators, with the graduates
About Ethiopian
Ethiopian Airlines, one of the largest and fastest growing airlines in Africa, made its maiden flight to Cairo in 1946. With the addition of new flight services to Hangzhou, Milan, and Madras Ethiopian will provide dependable services to 62 international destinations spanning four continents.
Recently, Ethiopian won the 2011 "AFRICAN CARGO AIRLINE OF THE YEAR" Award for its excellence in air cargo. Ethiopian won the NEPAD Transport Infrastructure Excellence Awards 2009 and the 2009 "Airline of the Year" award from the African Airlines Association (AFRAA). In August, 2008, Ethiopian won "the 2008 Corporate Achievement Award" of Aviation & Allied Business for setting the pace towards the development and growth of the African aviation industry. Ethiopian is also the first African carrier to win the 2008 Brussels Airport Company Award in recognition of its distinguished long haul operations witnessed through the introduction of new routes, new products, and close cooperation with Brussels Airport in marketing activities.