Ethiopian Airlines celebrated the graduation of 41 cabin crew trainees from its Aviation Academy on June 24, 2008.
The newly graduated cabin crew members will help Ethiopian in realizing its mission to provide safe, reliable, efficient and courteous service. They will also help support the Airline's strategic marketing efforts to strengthen and sustain its network worldwide.
The trainees have gone through two and half years of intensive class room and on-the-job training programme for cabin service delivery and safety assurance covering areas such as aviation safety and security, customer awareness, grooming, first aid applications and emergency procedures. Before graduation, each crew member had to pass a series of tests and evaluations to ensure that the standards required have been attained.
The graduates have gone through rigorous selection processes involving more than 1000 applicants. In addition to the basic educational qualifications, the candidates had to pass physical screening and written exams, comprising aptitude tests. Unlike the traditional interviewing method, an intensive assessment technique, which included impromptu speech, group discussion, role play, and one-to-one interview were applied.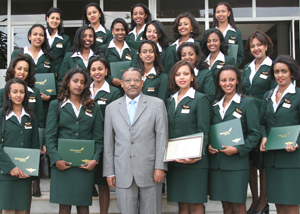 CEO of Ethiopian, Ato Girma Wake, with the graduates
Mr. Girma Wake, the CEO of Ethiopian gave out the wings and diplomas to all graduates, while Mr. E. Folly-Kossy, Secretary General of African Airlines Association and Mrs. Wude Asaye, Head Commercial & Service Training handed over achievement awards to six top performing candidates in the over all academic, and practical performance.
In his speech, Mr. Girma Wake congratulated the graduates for their successful accomplishment of the training and said, "You have to develop team work and good communications among yourselves in an effort to provide high standard of service to our esteemed customers."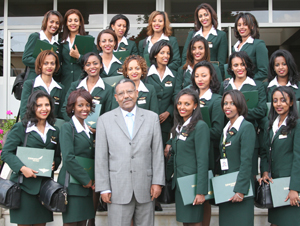 CEO of Ethiopian, Ato Girma Wake, with the graduates
The recruitment and selection process as well as the overall training programs reaffirm Ethiopian's commitment to maintain quality services on board. Ethiopian Airlines has been aggressively engaged in employing a large number of cabin crew members in recent years as its destinations and number of routes continue to grow.
About Ethiopian
Ethiopian Airlines, www.ethiopianairlines.com, one of the largest and fastest growing airlines in Africa made its maiden flight to Cairo in 1946. The airline currently serves 50 destinations around the globe, 30 of which are in Africa.
In 2006 and 2007 Ethiopian was the proud recipient of awards for the African Airline of the Year 2006, Africa Business of the Year 2007 and Ghana Business and Financial Award 2007 from the African Aviation Journal, the African Times/USA and the Government of Ghana respectively for its outstanding performance in the commercial air transport industry.
Ethiopian will be the first carrier to operate the 787 Dreamliner in Africa, the Middle East and Europe.