On Thursday July 17, 2008 Ethiopian Aviation Academy graduates 21 Aircraft Maintenance Technicians. All the graduates are Ethiopians. Among the graduates two are females.
During their two years stay at the training center, the graduates have undergone rigorous theoretical and practical training that qualifies them to be fulfilled aircraft maintenance technicians.
Today's graduation has raised the total number of graduates from the Academy, to 2,348 since its inception in February 1967. Of these graduates, 1,577 are Ethiopians and the rest 771 are foreign nationals from 48 different countries in Africa and the Middle East.
It is to be noted that the African Civil Aviation Commission has, in 1975, selected Ethiopian's Aviation Maintenance Training School as "The Training Center for English Speaking candidates from Africa".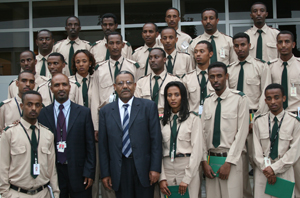 CEO of Ethiopian, Ato Girma Wake, with the graduates
The Ethiopian Aviation Academy provides trainings to aircraft technicians on:
Aviation Maintenance:

Airframe
Power Plant
Avionics

Other courses which are offered by the Academy include:

Micro Processor-Digital
Aircraft Electrical Systems
Aircraft Instrument
Aviation Electronics
Material Processing
Human Factors for Technicians
Structural Maintenance
The Ethiopian Aviation Academy has been offering training to its maintenance personnel and to new applicants coming from different countries mainly from Africa.
Mr. Girma Wake, CEO of Ethiopian gave out Diplomas to the graduates and awards were also given to top performing graduates in the presence of the Airline's top management, invited guests and family members.
About Ethiopian
Ethiopian Airlines, www.ethiopianairlines.com, one of the largest and fastest growing airlines in Africa made its maiden flight to Cairo in 1946. The airline currently serves 50 destinations around the globe, 30 of which are in Africa. The addition of service to Kuwait effective July 02, 2008 has brought the total number of Ethiopian's international destinations to 51.
In 2006 and 2007 Ethiopian was the proud recipient of awards for the African Airline of the Year 2006, Africa Business of the Year 2007 and Ghana Business and Financial Award 2007 from the African Aviation Journal, the African Times/USA and the Government of Ghana respectively for its outstanding performance in the commercial air transport industry.
Ethiopian will be the first carrier to operate the 787 Dreamliner in Africa, the Middle East and Europe.