Ethiopian Airlines, the fastest growing and most profitable airline in Africa, is pleased to announce that Ethiopian Airlines Chief Executive Officer Tewolde Gebremariam was awarded the 2015 International Grand Prix special ‪award on Wednesday June 3, 2015 in a ceremony held in Milan.
The prestigious award was bestowed upon Mr. Tewolde Gebremariam for his achievements in developing ‪the airline into the foremost aviation group in Africa and for spearheading the transformation of Ethiopian into becoming one of the fastest growing airlines in the world. Under his leadership, Ethiopian continues to add exciting destinations to its fast growing network, making it the only profitable airline in Africa which not only contributes to the socio-economic development of Ethiopia alone but to Africa as a whole.
GrandPrix Advertising is an international multimedia publishing group based in Italy. It is a showcase of Italian excellence in the field of communication, culture and institutions. The GrandPrix Advertising Award is the most prestigious award dealing with brands and brand communications in Italy.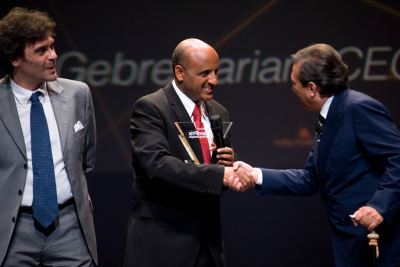 Mr. Tewolde while receiving the award in Milan
While receiving the Award, Ethiopian Airlines Group CEO Mr. Tewolde said, "It is an honor to receive this award and a very good opportunity to showcase to the world that we have been awarded by an independent and largest media group in Italy for our excellence in Africa. We at Ethiopian have achieved greater milestones as one family. I want to dedicate this Award to my colleagues: more than 9,000 brave men and women around the world who are always working hard to position Ethiopian as the global carrier of choice."
The Ethiopian CEO has also won a number of awards including Professional Excellence Award by Planet Africa and the Regional Leadership Award by Airline Business Magazine for his excellence in leading a carrier which provides strong transport links in its geographical region. He is also recognized for realizing the Pan Africanism vision of Ethiopian by implementing a multiple-hub strategy in Africa with its partner airlines ASKY Airlines in Lome, Togo and Malawian Airlines in Lilongwe, Malawi.
About Ethiopian
Ethiopian Airlines (Ethiopian) is the fastest growing Airline in Africa. In its operations in the past close to seven decades, Ethiopian has become one of the continent's leading carriers, unrivalled in efficiency and operational success.
Ethiopian commands the lion share of the pan-African passenger and cargo network operating the youngest and most modern fleet to more than 85 international destinations across five continents.
Ethiopian fleet includes ultra-modern and environmentally friendly aircraft such as the Boeing 787, Boeing 777-300 ER, Boeing 777-200LR, Boeing 777-200 Freighter and Bombardier Q-400 with double cabin. In fact, Ethiopian is the first airline in Africa to own and operate these aircraft.
Ethiopian is currently implementing a 15-year strategic plan called Vision 2025 that will see it become the leading aviation group in Africa with seven business centers: Ethiopian Domestic and Regional Airline; Ethiopian International Passenger Airline; Ethiopian Cargo; Ethiopian MRO; Ethiopian Aviation Academy; Ethiopian In-flight Catering Services; and Ethiopian Ground Service. Ethiopian is a multi-award winning airline registering an average growth of 25% in the past seven years.
For more information about this press release, please contact:
Manager PR & Publications
Ethiopian Airlines
Tel: (251-1) 517-84-07
publicrelations@ethiopianairlines.com
www.facebook.com/ethiopianairlines