Ethiopian Airlines proudly announces that it has become the Title Sponsor of the 2009 Ethiopian Great Run, the biggest road race in Africa. The 2009 Great Ethiopian Airlines Run, the 9th edition of the race, will take place in Addis Ababa on November 22, 2009.
"Ethiopian is delighted to be Title Sponsor of the 2009 Great Ethiopian Run enhancing its affinity to the growing road race in Ethiopia. The airline has been sponsoring the Great Ethiopian Run as "Official Airline of the Race" for the last three consecutive years. This year the airline has further strengthened its partnership with the organizers by becoming the Title Sponsor of the race to help raise fund for charity", said Mr. Yeneneh Tekleyes Director Advertising and Promotions (DAP) of Ethiopian Airlines.
Mr. Yeneneh added that Ethiopian Airlines, the proud recipient of the African Airlines of the Year 2009 Award, has had a humble beginning as the founder of the Great Ethiopian Run Athlete Haile Gebreselassie. The airline has now become one of the most successful airlines in Africa that provides services to 54 cities around the globe. Ethiopian shares the 'Can Do' spirit with the renowned Athlete Haile Gebreselassie to continue winning prestigious awards for outstanding performance.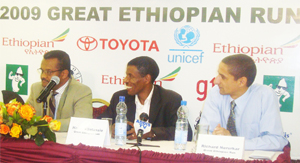 Director Advertising & Promotions of Ethiopian,
Mr. Yeneneh Tekleyes (left), with Great Ethiopian Run Organizers
The 27 times world Champion and Board Chairman of the Great Ethiopian Run Athlete Haile Gebreselassie said, "Ethiopian Airlines helped me as a young athlete before I came to Addis and now I am thrilled that the national carrier has been appointed to be the Title Sponsor of the 2009 Great Ethiopian Run in which more than 33,000 people are expected to participate. We are pleased to partner with Ethiopian Airlines and we look forward to a long-lasting partnership."
Great Ethiopian Run is an independent NGO with the mission of staging mass-participation running events in Ethiopia since 2001. In recent years the mass races have been attracting more participants including elite athletes from the country and overseas.
About Ethiopian
Ethiopian Airlines, one of the largest and fastest growing airlines in Africa, made its maiden flight to Cairo in 1946.
In July 2009, Ethiopian won 'Airline of the Year 2009' award at African Business Award organized by the London based African Business Magazine and Common Wealth Business Council.
In August 2008, Ethiopian won the 2008 Corporate Achievement Award of Aviation & Allied Business for setting the pace towards the development and growth of the African aviation industry.
Ethiopian is also the first African carrier to win the 2008 Brussels Airport Company Award in recognition of its distinguished long haul operations witnessed through the introduction of new routes, new products, and close cooperation with Brussels Airport in marketing activities.
Ethiopian was the winner of the '2008 Best Airline in Africa Award' at the African Travel Award in Lagos, Nigeria, for its excellent network and convenient connections in Africa.
For more information about this press release, please contact:

Manager PR & Publications
Ethiopian Airlines
Tel: (251-1) 517-89-07 (251-1) 517-81-65
Fax: (251-1) 661-14-74
E-mail: publicrelations@ethiopianairlines.com