Ethiopia receives WTTC's Safe Travels Stamp
"This decision reflects Ethiopia's commitment to maintaining the standard safe travel protocols and procedures as we reopen our doors to tourism and international visitors." – Hailemariam Desalegn, Chairman, Ethiopian Tourism Board
Friday 5th February 2021, London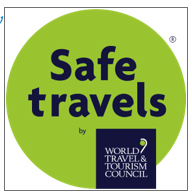 Ethiopia is the latest destination to be awarded the World Travel & Tourism Council (WTTC) Safe Travels Stamp – the world's first-ever global safety and hygiene stamp – following major steps implemented by the Ministry of Culture and Tourism last year to ensure safety for residents, travellers, and workers and businesses in the tourism value chain, as Ethiopia reopened its borders to international visitors.
Ethiopia is among 200 other major popular holiday hot spots around the world such as Kenya, Turkey, Portugal, Argentina, Tunisia, and Indonesia, who together are using the stamp to reassure travellers and restore confidence to travel.
WTTC, which represents the global Travel and Tourism private sector, created the Safe Travels Stamp in May 2020, to allow travellers identify destinations and businesses around the world which have adopted the global standardised health and hygiene protocols. The globally recognised Stamp has also helped revive the global travel and tourism sector, which has been left devastated by the COVID-19 pandemic.
The United Nations World Tourism Organisation (UNWTO) has also welcomed the WTTC Safe Travels Stamp, which places the safety and hygiene of travellers as a top priority.
Gloria Guevara, WTTC President and CEO, said: "Ethiopia is an incredibly important destination, and is becoming more popular each year. Last year, Travel and Tourism supported 1.96 million jobs in the country and contributed nearly 6.7% of the country's total GDP, which shows just how important its Travel and Tourism sector will be the country's economic recovery, once the COVID-19 pandemic has been combatted."
"We are pleased to see Ethiopia's Ministry of Tourism implementing a number of enhanced health and safety measures, in line with our global protocols, to ensure safe travel, and we are delighted to recognise their efforts through the WTTC Safe Travels stamp."
H.E. Hailemariam Desalegn, the former Prime Minister of Ethiopia who is also chairman of the Ethiopian Tourism Board, said: "We are extremely honoured to be issued the Safe Travels stamp by the WTTC and commend them for this important initiative. This decision reflects Ethiopia's commitment to maintaining the standard safe travel protocols and procedures as we reopen our doors to tourism and international visitors. With the aim of ensuring the safety of workers and visitors, we will continue to work closely with tour operators, hotels, and regional destination marketing organisations to maintain these standards."
"With new reforms underway to transform Ethiopia's economy by making tourism a priority sector, the Ethiopian government is focusing on new forms of tourism – MICE tourism, sports tourism, stopover tourism, and ecotourism – in addition to others, as part of efforts to make Ethiopia one of the top five tourist destinations in Africa. Efforts are also underway to further enhance Ethiopia's cultural wealth and natural attractions."
H.E. Dr. Hirut Kassaw, Minister of Culture, Tourism, and Sport said: "Tourism is a strategic priority for the government and significantly contributes to the development of our national economy. We have created a partnership with the private sector and responded quickly on COVID-19 safety measures. With the current success in obtaining the safe travel stamp, I am confident that appropriate measures will be taken to ensure the health and safety of tourists and destinations nationwide. We are now ready to welcome tourists to visit Ethiopia."
Sileshi Girma, the CEO of Tourism Ethiopia said: "With health and safety issues at the forefront of the travel and tourism sector, our destinations and industry operators are now well prepared and have implemented safety protocols. As part of the WTTC guidelines, the industry operators must maintain delivery of appropriate safety measures. Past experiences show that tourists are keen to resume travelling and we need to restart tourism now."
Ethiopian Ambassador to the UK, H.E. Teferi Melesse Desta said: "Receiving the WTTC stamp of approval is a strong testament of the government's commitment to ensuring a safe environment for residents and tourists as we welcome international visitors. This is a major boost for the sector and will help with efforts in rebuilding confidence in travellers in this 'new normal' of the COVID-19 world."
"Ethiopia is an ancient country whose unique cultural heritage, rich history, and remarkable biodiversity is reflected in a tally of 9 UNESCO World Heritage Sites – more than any other country in Africa – and 4 under UNESCO's lists of Intangible Cultural Heritage. Add to this, spectacular landscapes, and a wealth of mammals and birds found nowhere else in the world, make Ethiopia one of the most attractive and popular emergent tourist destinations in Africa. I, therefore, invite you to visit Ethiopia to discover why we are the 'Land of Origins'."
Mr. Kagnew F. Asfaw, VP Ethiopian Holidays and Digital Sales, Ethiopian Airlines Group said: "The accreditation for adopting standardised global health and hygiene protocols would serve as a testament to the competency of a company in ensuring employee and customers safety, health and wellness. It helps to restore confidence of the traveling public. As a safety-first airline, the stamp will be a great boost to our unwavering commitment in ensuring safety, health and wellness.''
Since the launch of the WTTC Safe Travels Stamp, destination countries and cities, around the world have now adopted WTTC's new protocols. As part of its Safe Travels protocols, these worldwide measures provide consistency and guidance to travel providers and travellers about the new approach to health, hygiene, deep cleansing, and physical distancing. The protocols were designed following guidelines from the World Health Organisation (WHO) and the Centre for Disease Control and Prevention (CDC), and taking best practices from WTTC's Members into account.
Eligible businesses in Ethiopia such as hotels, restaurants, airlines, tour operators, restaurants, outdoor shopping, transportation, and airports, will be able to use the stamp once the health and hygiene protocols, outlined by WTTC, have been implemented.
---ENDS---
For further information, contact:
Ethiopian Embassy London Press Office: press@ethioembassy.org.uk | 0207 838 3883
Tourism Ethiopia: dessalegnea@gmail.com
Ethiopian Airlines: UKPR@ethiopianairlines.com
World Travel & Tourism Council: press.office@wttc.org