Ethiopian's Fourth Order for Bombardier Q400 Turboprop Airliners
Q400 has been integral in the airline's expansion plans for regional connectivity in Africa
Addis Ababa, June 20, 2017 –Bombardier Commercial Aircraft announced today that Ethiopian Airlines Enterprise is the previously undisclosed customer that signed a firm purchase agreement for five additional Q400 turboprop aircraft. Based on the list price of the Q400 aircraft, the contract is valued at approximately $162 million US.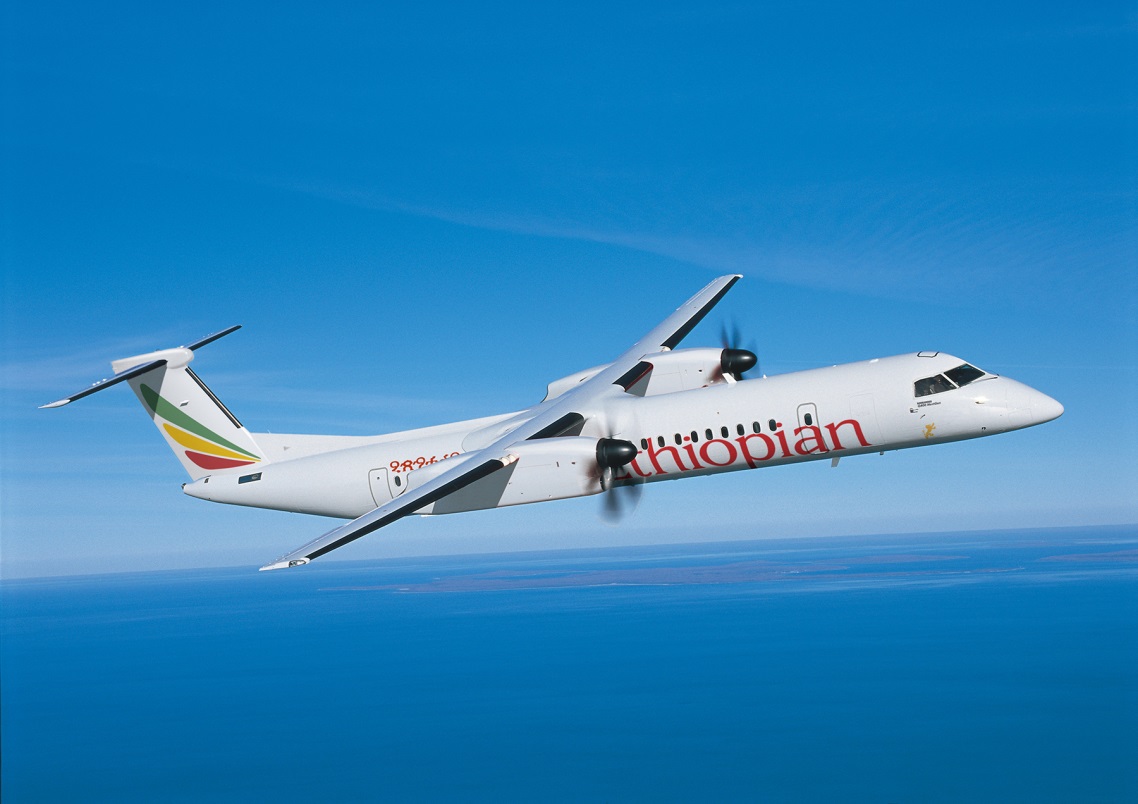 "Our relationship with Ethiopian Airlines extends beyond straight buyer-seller," said Colin Bole, Senior Vice President, Commercial, Bombardier Commercial Aircraft. "Ethiopian is an Authorized Service Facility for Q400 aircraft and operates the only Q400 aircraft flight simulator in Africa. In addition, we have worked together to support other Q400 aircraft operators such as RwandAir and Congo Airways."
"We are reordering the Bombardier Q400 turboprop as it is the core element in serving our expanding domestic and regional destinations," said Tewolde GebreMariam, Group Chief Executive Officer, Ethiopian Airlines. "Its 360-knot speed capability, low operating costs, environmental credentials and passenger comfort, especially with its cabin flexibility for single and dual-class passenger configuration are worth mentioning. The Q400 aircraft shines in terms of climb rate, single-engine ceiling, and greater revenue-producing payload capability from our hot weather, high altitude airstrips, these performance attributes being critical to interchangeability with our jet fleet."
"The airline market in Africa has been growing slowly but steadily as the industry is becoming more liberalized and the infrastructure to support the growth is being put in place," said Jean-Paul Boutibou, Vice President, Sales, Middle East and Africa, Bombardier Commercial Aircraft. "Airlines in Africa are working very hard to modernize their operations to meet the challenges of tomorrow and we are committed to helping with the aircraft and technical support they require."
Ethiopian Airlines' initial order for eight Q400 aircraft plus four options was announced on November 20, 2008. Four re-orders directly and through Palma Capital, including the one announced on June 9, increase the airline's Q400 aircraft fleet to 24 aircraft, the largest in Africa.
Bombardier Commercial Aircraft already has a solid foothold on the African continent with upwards of over 190 Dash 8/Q Series turboprops – including over 35Q Series operators – and CRJ regional jets in operation or on order from customers. Over the next two decades, Africa is expected to take deliveries of 550 new aircraft, and with Bombardier's family of aircraft, the company is well positioned to serve this growing market. Bombardier has now recorded a total of 585 Q400 aircraft on firm order.
About Ethiopian
Ethiopian Airlines (Ethiopian) is the fastest growing Airline in Africa. In its seven decades of operation, Ethiopian has become one of the continent's leading carriers, unrivalled in efficiency and operational success.
Ethiopian commands the lion's share of the pan-African passenger and cargo network operating the youngest and most modern fleet to more than 95 international destinations across five continents. Ethiopian fleet includes ultra-modern and environmentally friendly aircraft such as Airbus A350, Boeing 787, Boeing 777-300ER, Boeing 777-200LR, Boeing 777-200 Freighter, Bombardier Q-400 double cabin with an average fleet age of five years. In fact, Ethiopian is the first airline in Africa to own and operate these aircraft.
Ethiopian is currently implementing a 15-year strategic plan called Vision 2025 that will see it become the leading aviation group in Africa with seven business centers: Ethiopian Domestic and Regional Airline; Ethiopian International Passenger Airline; Ethiopian Cargo; Ethiopian MRO; Ethiopian Aviation Academy; Ethiopian In-flight Catering Services; and Ethiopian Ground Service. Ethiopian is a multi-award winning airline registering an average growth of 25% in the past seven years.
For more information about this press release, please contact:
Mrs. Hanna Atnafu
Manager Corporate Communications, Ethiopian Airlines
Tel :( 251-1)517-89-07/656/165/913/529
CorporateCommunication@ethiopianairlines.com
www.facebook.com/ethiopianairlines
About Bombardier
Bombardier is the world's leading manufacturer of both planes and trains. Looking far ahead while delivering today, Bombardier is evolving mobility worldwide by answering the call for more efficient, sustainable and enjoyable transportation everywhere. Our vehicles, services and, most of all, our employees are what make us a global leader in transportation.
Bombardier is headquartered in Montréal, Canada. Our shares are traded on the Toronto Stock Exchange (BBD) and we are listed on the Dow Jones Sustainability North America Index. In the fiscal year ended December 31, 2016, we posted revenues of $16.3 billion. News and information are available at bombardier.com or follow us on Twitter @Bombardier.
For Information
Bryan Tucker
Bombardier Commercial Aircraft
+1(450) 476-5907
bryan.bca.tucker@aero.bombardier.com