Today the Ethiopian Aviation Academy graduated 24 Aircraft Maintenance Technicians who have completed two years of extensive training in airframe, power plant and avionics. Among the graduates 18 are Ethiopians and six Malagasy.
During their stay at the training center, the trainees have acquired adequate theoretical and practical skills. Coupled with type rating courses, the training will enable them to maintain with professional skills in airframe, engines and components of aircraft operated by their national carriers and/or other airlines.
H.E. Mr. Jean Pierre Rakotoarivony Ambassador Extraordinary and Plenipotentiary of the Republic of Madagascar to Ethiopia, invited by Mr. Girma Wake, Chief Executive Officer of Ethiopian Airlines, gave out the Diplomas to the graduates and awards to top ranking ones.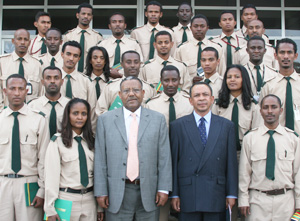 H.E. Mr. Jean Pierre Rakotoarivony Ambassador of
the Republic of Madagascar, and CEO of Ethiopian,
Ato. Girma Wake with the graduates
The graduates will bring the total number of technicians from the Center to 2,372 since its inception in February, 1967. Among the total graduates of the Center 1,595 are Ethiopians and the rest (777) are nationals of various countries mainly from Africa and the Middle East.
Currently, the Ethiopian Aviation Academy is providing training for 308 trainee technicians, 62 of which are from the Sudan, Madagascar, Chad, Congo-Kinshasa, Tanzania, Liberia and Namibia.
About Ethiopian
Ethiopian Airlines, www.ethiopianairlines.com, one of the largest and fastest growing airlines in Africa made its maiden flight to Cairo in 1946. The airline currently serves 53 destinations around the globe, 33 of which are in Africa.
In 2008 Ethiopian was the proud recipient of the Corporate Achievement Award from Aviation & Allied Business, the Brussels Airport Marketing Award on its long haul service, and Best Airline in Africa from the Africa Travel Award-Nigeria.
In 2006 and 2007 Ethiopian also won awards as the African Airline of the Year 2006, Africa Business of the Year 2007 and Ghana Business and Financial Award 2007 from the African Aviation, the African Times/USA and the Government of Ghana respectively for its outstanding performance in the commercial air transport industry.
Ethiopian will be the first carrier to operate the 787 Dreamliner in Africa, the Middle East and Europe.